THE HELMSMEN ON SHORE...
Sailing Holland is a collaboration of professionals. The collaboration started in 2013 with Gideon Messink and Anita van Oeveren. In close collaboration with 8-fold participant in The Ocean Race Bouwe Bekking. Together they had a dream to participate in the Volvo Ocean Race 2014 -15 with a Dutch boat and an experienced team. Together they went looking for sponsors. Not a sponsor for the entire campaign, but different sponsors who can reinforce each other, work together as a team and go for the highest possible result.
TEAM BRUNEL IN THE VOLVO OCEAN RACE 2014-15
Team Brunel 2014-15 was a collaboration between BRUNEL, Schouten, Robeco and Moduleo. A successful formula. Bouwe Bekking gathered a good team around him and won second place in the race.
TEAM BRUNEL IN THE VOLVO OCEAN RACE 2017-18
After the success of 2014-15, Sailing Holland immediately started looking for new sponsors for the 2017-18 race. This was not easy due to various circumstances. The team was finally able to start at the end of July 2017. A late influx, but Bouwe managed to gather good people around him. Another approach: many young people with a lot of knowledge and ambition. From the middle of the race, the team was unstoppable and made up for the backlog that had arisen in the beginning, leaving the team headlong with the winning teams: DongFeng and Maphre. After a nerve-racking battle, Team Brunel had to settle for an honorable third place.
The most important goal of Sailing Holland now is to train young enthusiastic people who have the dream to sail an Ocean Race. Coached by Bouwe there is a group of talents who sail along as a crew on the VO65. The goal is talent development so that more Dutch sailors can participate in the Ocean Race.
In the summer of 2019 the boat sailed among other things AF Offshore (Gotland Runt). Team Brunel and skipper Bouwe Bekking, along with young talents and HIQ as a partner, won the speed record, line honors and the class. Then came Channel Race, Fastnet Race and and Pro-am races in Aarhus.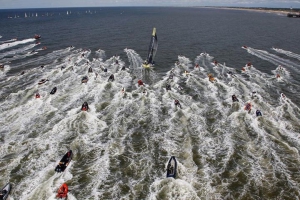 Team Brunel 2nd place Volvo Ocean Race 2014-15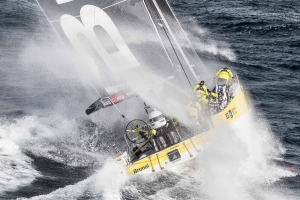 Team Brunel 3th place Volvo Ocean Race 2017-18